Bottle nipple for baby are produced from two materials, natural rubber and silicone. Parents will often hesitate and wonder when they don't know whether to use rubber nipple or silicone nipple, which one will be safer and better for development of their baby. Then read the article below of tssilicone.com to know and consolidate your knowledge about both types of nipple and from there, make decision about which type of nipple suit for your baby.
1. Rubber Nipple.
  Rubber nipple are produced from the sap of natural rubber trees, doesn't contain toxic substances and especially doesn't contain BPA (If you don't know what BPA is, in the following article, tssilicone.com will explain to you what BPA is and its dangerous effects). Usually, nipple rubber is yellow or colorless, when touched, it will feel very soft like the mother. Rubber nipple is very popular with young babies, because it comfortable and soft felling, easy for the baby suck, help babies spend less effort, and rubber nipple are alse popular with many parents because due to their easy to suck and soft nature, babies suck very quickly.
Rubber Nipple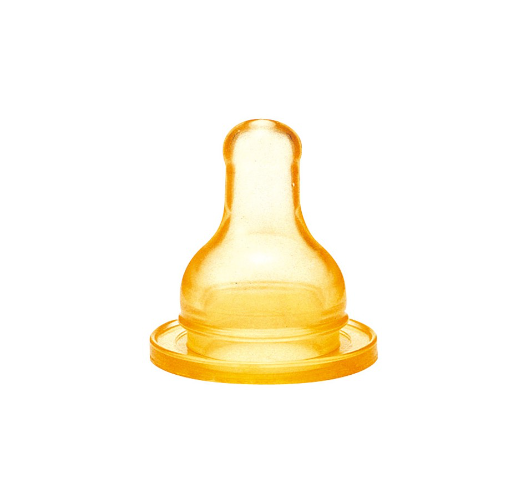 Advantages:
- The price is cheap, suitable for the majority of current consumers.
- The nipple is made from natural rubber, so it very soft, the baby will suck very quickly without spending effort, helping parents alse reduce some of the time and effort of breastfeeding.
- The soft nipple should make baby feel like the mother, making the baby suck more and more comfortable.
 Disadvantages
- Low durability, must change frequently.
- Heat resistance should not be high, can be deformed if exposed to high temperatures for a long time.
- The nipple is soft, so the baby only needs to use less strength, so the baby will not be able to exercise the jaw muscles, natural facial muscles and chewing reflexes, limiting the regulation of salivary gland enzymes, reducing the efficiency of the nutrient absorption process.
- In addition, some poor quality rubber nipple and don't tested by the Ministry of Health, it often have a bad smell, poor durability, easily deformed when chewing and biting strongly and can especially cause allergies in some babies due to some components of rubber if not suitable.
- Difficult to clean, unsanitary in the dishwasher. And some types unsanitary in the microwave.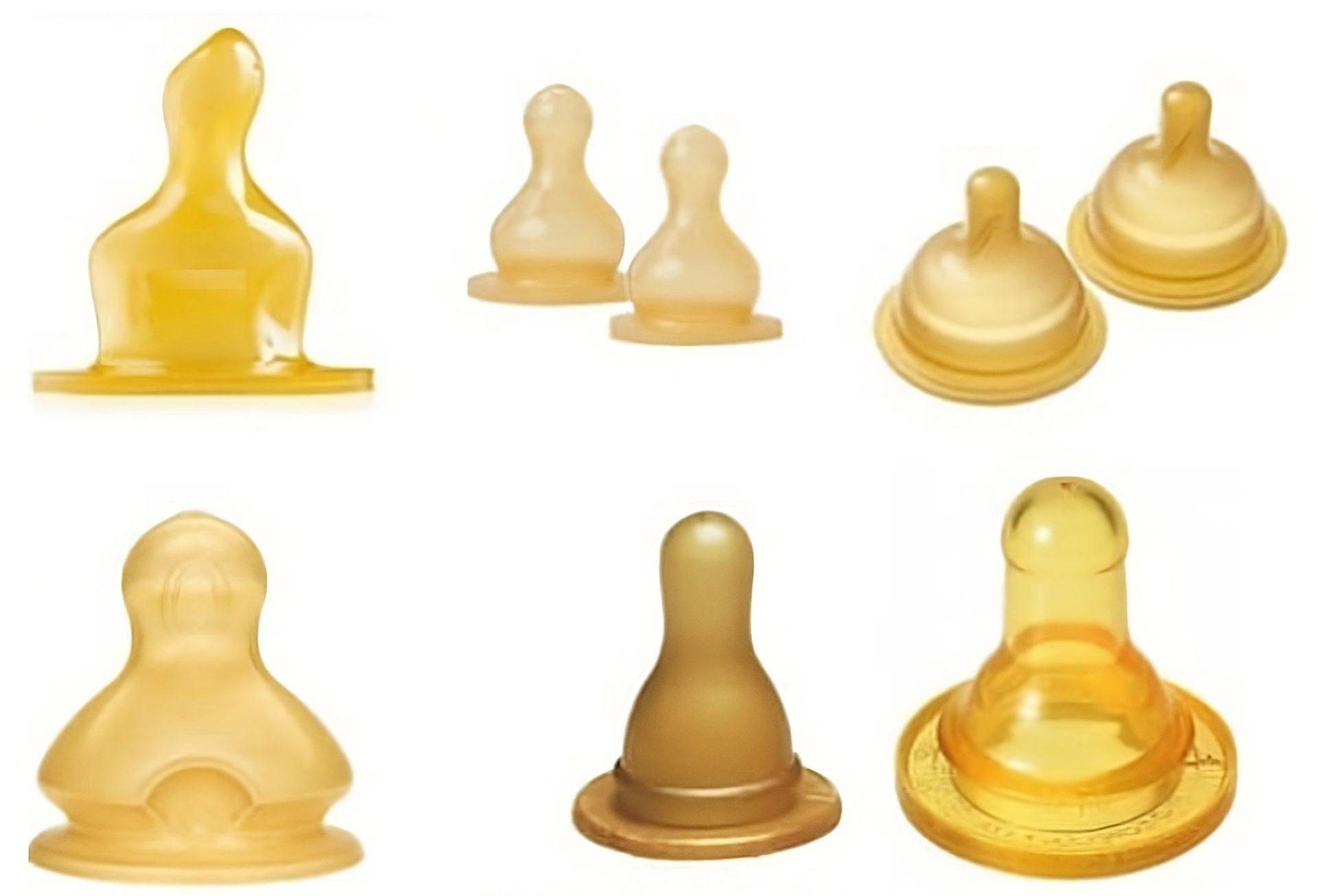 Rubber Nipple
Rubber nipple have many differen shapes.
2. Silicone Nipple.
  Silicone is a material commonly used in the beauty and medical industry, because it does not contain toxic subtances. High durability, good heat resistance, odorless, so silicone nipple is absolutely safe for babies. Therefore, silicone nipple are trusted by many parents. Currently, most large and small brands choose to produce silicone nipple as the main one.
Silicone Nipple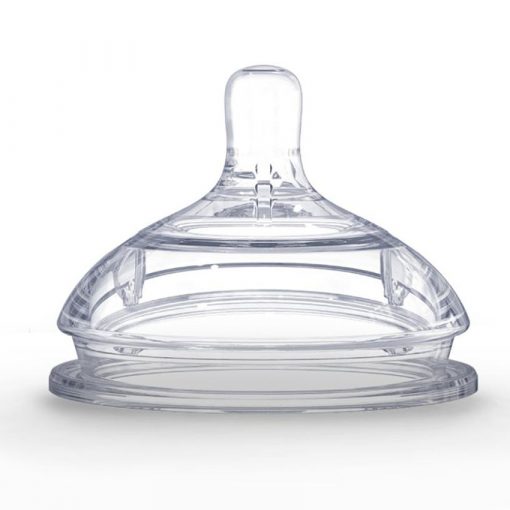 Advantages:
- Good elasticity and long service life.
- Less deformed and elastic, extremely durable even when encountering high temperatures for a long time
- The softness fits so that babies can exercise the jaw muscles, helping their chin and mouth develop naturally.
- Promotes the movement of the jaw muscles of the child, promotes the regulation of salivary gland enzymes, increases the performance of the metabolic process.
- Completely guaranteed hypoallergenic odorless, easy to clean.
Disadvantages.:
- The price of silicone nipple is higher than the rubber nipple.
- Not suitable for novice bottle-fed babies.
- At first, some baby will refuse to suck silicone nipple because the silicone nipple is harder than rubble nipple, the baby has to spend more strength to feed.
Silicone Nipple
Like rubber nipple, silicone nipple have many different shape too.
3. You should choose the rubber nipple or silicone nipple.
  If the babies it still a few months old, is in the process of both breastfeeding and bottle feeding, the rubber nipple is the most reasonable choice, because it is soft like mother, making the babies feel comfortable and secure when feeding. Besides, soft and small nipples wiil be good for the palate, gums, as well as tooth development for the baby.
  When your babies is no longer brastfed but switching to bottle feeding, parents should practice feeding your baby with a silicone nipple, then the baby's palate, gums. Teeth and jaw muscles have developed enough to be able to use the silicone nipple. At that time, in addition to dringking milk, the babies also has the jaw, facial muscles, and gums to help your babies develop naturally. After a period of familiar use, the muscle of the baby's face and jaw have been trained, so feeding with a silicone nipple will become as easy as rubber nipple, ensuring not to make the baby uncomfortable like the first day of use.
  In fact, rubber nipple and silicone nipple are both good and high quality because both types are manufactured according to adv

​ances processes, are strictly quality controlled to meet current regulation and ensuare no harm to people and environment. Therefore, parents should alse rely on their finances or their child's age to choose the right nipple​

for babies.
We take care of your baby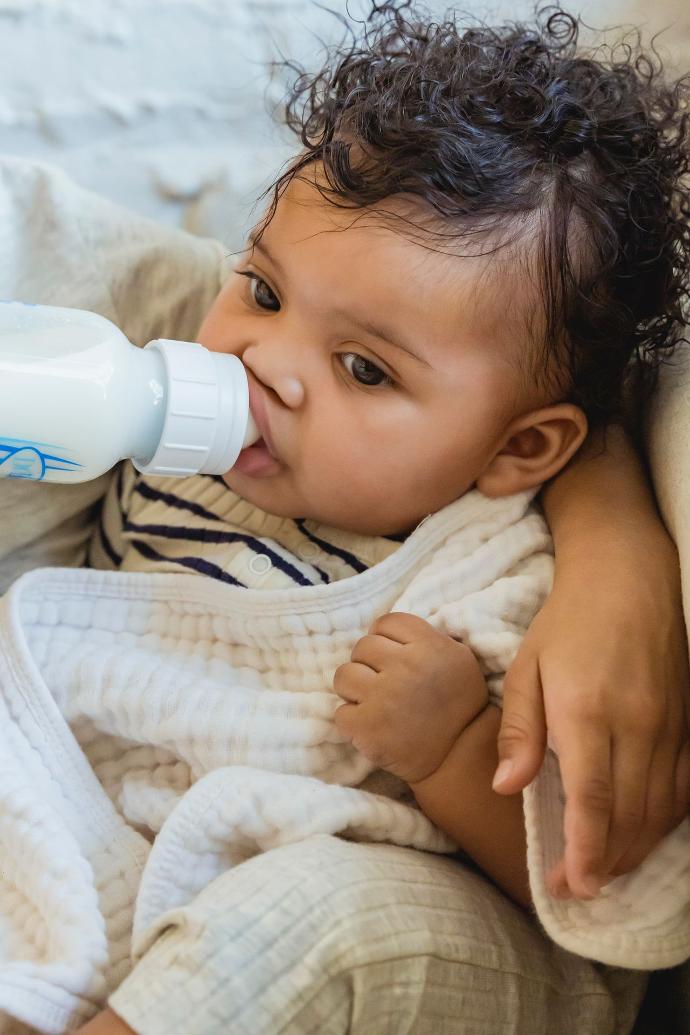 Through the article, parent have learned how to classify rubber nipple and silicone nipple. Topsheng Silicone is a company with solid foundation and extensive experience in manufacturing silicone products, especially producing quality silicone nipple and medical inspection. We can adjust the color according to your requirements or the hardness of the nipple to suit all babies, including babies who are less than months old.
  Contact us if you are in need of a supplier silicone nipple, silicone products and details in large quantities. With extensive experience and production technologies such as extrusion, HCR molding, LSR injection. With high technologies and workmanship, in addition to silicone nipple, we can also produce all kinds of silicone products according to customer's requirements. We are confident to meet all your requirements even the most difficult, with the motto is "All you need is just an idea, we'll make it come true".
  Phone Numbers: 0867571038. 
  Web: tssilicone.com.
  Address: 210 Tan Thoi Nhi 1, Tan Thoi Nhi, Hoc Mon, Ho Chi Minh city, VietNam.
Your Dynamic Snippet will be displayed here... This message is displayed because you did not provided both a filter and a template to use.